Make Special Events Memorable with Our Paella Catering Service
In Spain during festivals and Sunday family gatherings Paella is served celebrating hundreds of years of tradition for the dish that placed Spain as a culinary destination . If you are looking for that traditional Spanish paella ,look no further. This is the time you can add the Best Paella Catering in Boston, New England to make it memorable and pleasurable.
Looking for the best paella caterer that can provide Paella Catering in Boston, Ma? Paellas at Your Place by Antonio is a professional caterer that specializes in authentic paella and other Spanish culinary delights.
At Paellas at Your Place by Antonio, we provide Paella Catering Service in Boston, bringing you an authentic Spanish dish. Antonio learned how to make paellas in Valencia Spain, and he looks forward to preparing this amazing dish using traditional spices, rice imported from Spain, and local fresh ingredients. Paella is the perfect dish to share with family and friends. We cater throughout the New England area.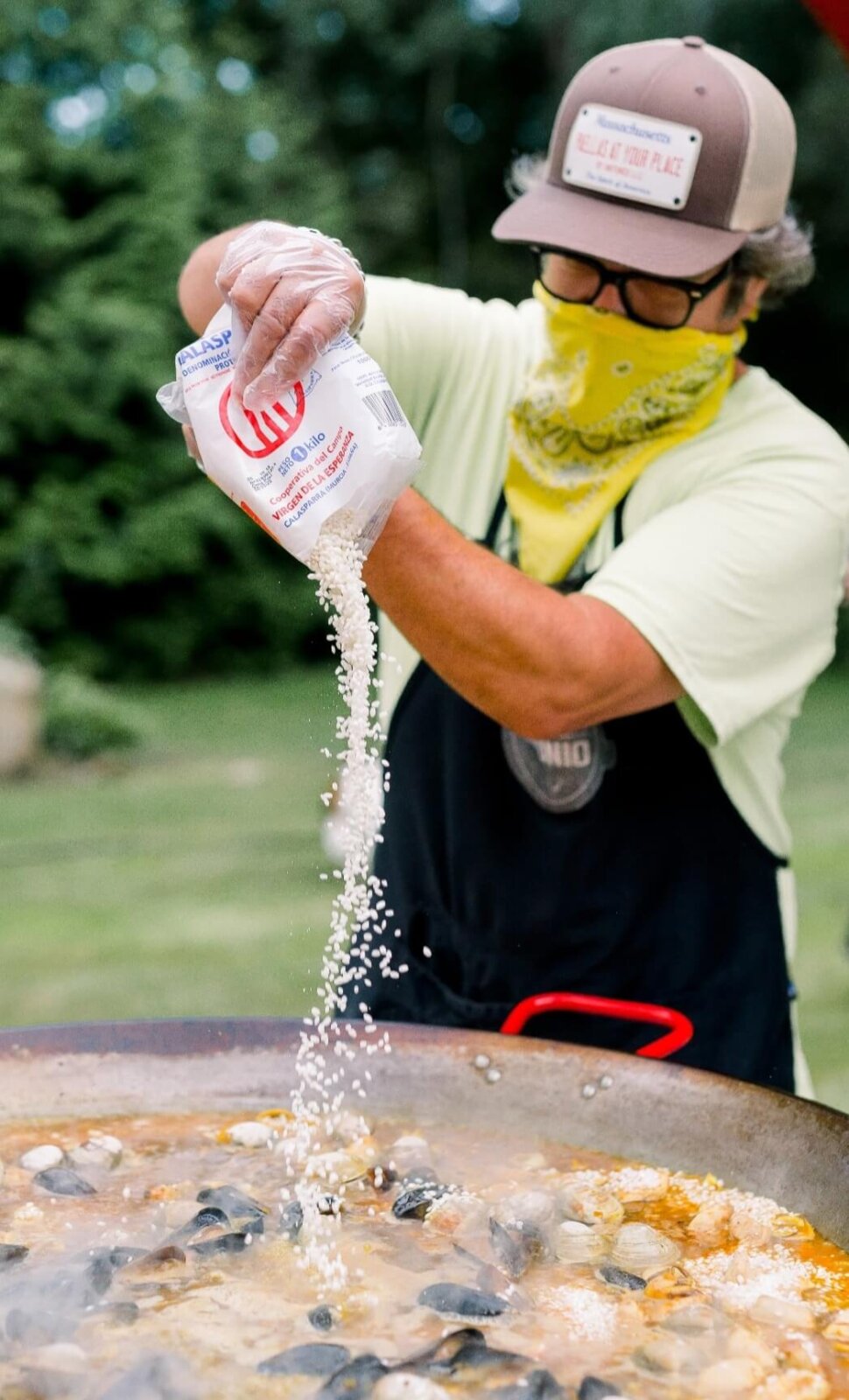 Find a Delicious Meal for Your Next Event
Paella is a traditional Spanish dish prepared with seafood or meat, often chicken, vegetables, and rice. Paellas at Your Place by Antonio uses Calasparra or Bomba Spanish rice. We use a variety of complementary spices to give the paellas their unique traditional flavor ,that includes smoked Spanish paprika and Spanish saffron. We look forward to preparing your next paella !!
Paellas at Your Place by Antonio is proud to offer paella catering to any event. We often cater to:
Weddings
Holiday gatherings
Birthday parties
Festivals
Family gatherings
Office parties
If you are looking for an alternative dish for your wedding ,that is delicious colorful that will delight your guests by cooking our creations on-site . Imagine a beautiful organized environment that incorporates paellas and perfectly decorated tapas buffet tables to celebratory lighting and Spanish Flamenco music arranged Paella Wedding Catering from Paellas at Your Place by Antonio.
Paellas at Your Place by Antonio specializes in traditional Spanish paellas with ten years of experience of Paella Event Catering in Boston, New England. Please contact our team to book the Best Boston Paella Catering Service.
Once we received your booking confirmation, our team will reach your place of event in a timely manner, equipped and ready to prepare your paella.
Get Authentic Paella Catering Services Today
When you request Paella catering services from Paellas at Your Place by Antonio, your paellas will be prepared perfectly and promptly.